6Comm and Freya Aswynn - Yggdrasil Night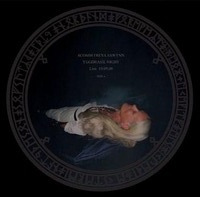 On September 19 2009 Freya Aswynn and Patrick Leagas undertook a live ritual performance of
The Fruits of Yggdrasil
album. This was the first ever performance of the runesongs recorded by the Dutch rune mistress and 6Comm front man over 20 years ago. The original album was released in a limited edition of 669 copies on Leagas' Eyas Media / Kenaz label. Its history was beset with distribution problems, creating issues for Patrick Leagas for years to come. As Leagas and Aswynn became estranged it languished out-of-print for years until it was reissued by Hau Ruck. In the intervening years Aswynn, reworked the entire album as
Songs of Yggdrasil
, with some of these tracks featuring alongside collaborations with Current 93 and Fire and Ice on
Shades of Yggdrasil
.
Expectations were naturally running high for this debut performance, captured here on this beautiful picture disc. As Leagas' introductory words state
Fruits...
was a "musical experience. More than mere music, it was a ritual". The swirl of melancholic keyboards almost classical in nature open this ritual performance. It is quite literally the calm before the storm, as Aswynn's voice, once pure, now weathered by time, intones the words of 'Ragnarok', and is interrupted by a thunderous cacophony of drums and spirited horn playing. The hunting horns continue to howl throughout 'Havamal'. On this piece, adapted from the Eddas, Aswynn relates the initiation of Odin to obtain the secrets of the runes. Surrounded by pounding drums in commanding tones Aswynn intones the eighteen rune calls expanding upon their associated meaning and effects. It's a powerful piece of rune chanting, and, in itself, is a wonderful introduction to the Northern Mysteries.
The performance takes on a strong ritual flavour on 'Invocation of the Gods' as Aswynn's heavily accented spoken voice reaches out to each point of the compass to invoke Odin, Heimdal, Thor and the Lady of the Vanir . Here her words are slightly echoed embellished with the howl of wolves and thunderclaps. The atmosphere is dank and malevolent for 'Nithing'. Against brooding keyboards and hand bells, Aswynn throws a curse, delivered in hellish, rhyming cackling tones.
'Sigdrifumal' opens with a short spoken piece from Patrick, before the sound of hunting horns as Freya speaks from the Eddas delineating the magical potency of the runes, combined with powerful rune chants, couched in swathes of keyboards that become increasingly symphonic and majestic. The melodic keyboards and electronic drums of 'North Star' evoke the gothic melancholia of early Sixth Comm. It continues onto 'Wotan', an almost choral piece laced with angelic choirs, as Aswynn delivers Nietzsche's writing on the Germanic God. The brooding synth work continues on to 'Voluspa', another piece adapted from the Eddas where Aswynn adopts the guise of the prophetess and witch Heid foretelling the onslaught of Ragnarok. Like the turn of the wheel, the performance turns full circle as curiously the final piece, 'Ragnarok' is the studio recording from the original release of
The Fruits of Yggdrasil
. From gentle atmospheric synthwork and the soft rattle of bells, Freya's voice is soft and pure. The music becomes more dramatic culminating in a short bombastic climax comprising hellish choirs, intricate stringwork, a cacophony of drums and spirited trumpet fanfare. After the customary thank you there is a short closing ritual piece before Freya Aswynn intones Hail Odin! Hail Thor! We arise anew!
The original release of
The Fruits of Yggdrasil
was recorded in a matter of days. This performance marrying tapes, with live improvisation and Freya's vocal chanting is just as instinctive and intuitive.
Yggdrasil Night
reignites that magick. 22 years after the original release, once again Odin's power is felt. For more information go to
www.myspace.com/fruitsofygg
or
www.hagshadow.net/6comm