David E. Williams - Every Missing Duck Is A Duck Missed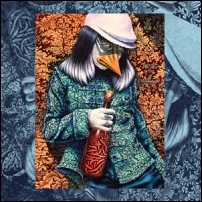 Funny, as much as pain and loss and death have proven to be a wellspring for popular songs - cancer, or leukaemia in the case of David E. Williams, has never featured prominently in the canon of the "death disc". As fatality in pop songs go cancer, unlike suicide, car crashes and untimely death, has never been a big seller.
Unfortunately for David E. Williams, at least, leukaemia plays a central role in
Every Missing Duck Is A Duck Missed
. David's partner Jennifer Bates succumbed to leukaemia in May 2007 and ...Duck... was inspired by the grief and futility following her death. David E. Williams is no stranger to death and taboo subjects. His work is riddled with references to death, disease and sickness.
...Duck...
deals with death and the pain of loss and it remains very much a David E. Williams release - with the blackest of black humour except this time his attention is turned inwards, and he himself becomes the main subject.
'Save A Chair for Jennifer' conjures up eighties electro pop with its drum machine rhythm and layered synths with multi-tracked vocals delivering some heartbreaking words of thwarted dreams as he deals with the pain of grief. His loss is unmistakeable here. The same goes for the following track, 'Here Comes The Cold Narrator', where amidst minor piano chords he retells the final moments of Jennifer Bates, as she lay in a hospital ward, life ebbing away. The directness of the approach here is devastating. Williams "cold narration" slips towards the end of the second verse where in indignant tones he rises, quite admirably, to the questions surrounding the disposing of his beloved's clothing before closing on a verse of poetic brilliance. It's a testament to his worth as a songwriter.
And as uncomfortable as these are for the listener, later tracks become much more awkward airing issues that only those directly, like me, touched by illness and death could fully grasp. The troubling question 'Do I Love You As Much As I Did When You Weren't Sick?' takes the pop song into uncharted territory. 'The Unconscious Is Cold' is terribly sad and brutally honest raising an issue that is rarely if ever mentioned. Both tracks see Williams' piano arrangements bolstered by electric guitar and drums. 'Do I Love You...' even features a guitar solo, while 'The Unconscious Is Cold' slides from a gentle piano ballad to a soaring ensemble piece comprising spiralling guitars, violin score and the swirl of the Hammond organ.
The glorious sunshine pop of 'Kill Yourself In Cape May' truly catches you off-guard with its singalong chorus: "You died way horribly. Yeah, you died way horribly." You inevitably find yourself singing along just as it hits you what you're singing. It's a perfect example of William's perverse humour. Fortunately he doesn't milk it and it appears only once, opting to bow out on a harmonica solo.
Dressed up as a piano ballad with massed harmonies, 'Hymn To The Genius of Idi Amin' tells of the African dictator's evil eccentricities. It is sheer bad taste but in the context of
...Duck...
, it provides a moment of light relief. As does 'Suicide Bomb' a lovely duet with Lisa Sunshine where William's provides an exaggerated drawl over piano and sixties styled organ stabs. This along with the following track, 'Summer Wasn't Made For You And Me', are perhaps some of Williams' finest melodic moments. With its forlorn piano score and clarinet 'Summer Wasn't Made For You And Me' was written especially for pale faced lovers who prefer the shade. The astute listener may recognise the music from 'I Was A Fool In Love', the Ethel Mermaid' contribution to the David E. Williams' tribute compilation,
The Appeal of Discarded Orthodoxy
.
Things don't really get lighter on the cover versions either. 'Ich Hatt' Einen Kameraden', a 19th century German folksong sung by war veteran song for fallen comrades, and 'Hello, Young Lovers', the classic Rodgers and Hammerstein showtune, are cast in a new light given Williams' bereavement. The song from the King and I is a moving moment with Williams in full voice, over ringing keys and interestingly it's the final words sung on
...Duck...
as Williams opts to close on two instrumentals. The final piece 'Closing Suite For My Deceased' reprises many of the earlier tracks arranged into a pleasing medley. It displays his musical dexterity with sugary melodies and clarinet solos while it could easily be regarded as schmaltzy within the context of
...Duck...
it is truly bittersweet.
On
...Duck...
Williams has enlisted an extended cast of musicians, including Thomas Nöla and members of Oval Portraits, Radio Eris, Void Vision, Black Landlord alongside his main collaborator Jerome Deppe to flesh out his musical vision. David E. Williams has released a number of great records but
...Duck...
is his most cohesive and consistent album. It's one that I, as a fellow widower, can appreciate and wallow in. "Tragedy renders the monster human" read the press release and as sad and as brutally real as it is, this is the David E. Williams release to own. The great tragedy of
Every Missing Duck Is A Duck Missed
is that Jennifer Bates will never hear it. For more information go to
www.davidewilliams.com
or
www.eskimofilms.com