IANVA - Disobbedisco!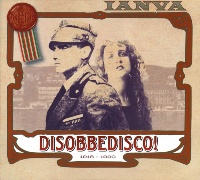 Disobbedisco!
is a musical concept album; a tale of impossible love set against the Conquest of Fiume, where following the Treaty of Paris the Italian City was assigned to Yugoslavian rule. In 1919 the Italian war poet Gabriele d'Annunzio and his Arditi conquered the port of Fiume declaring it a Free Republic. Against the background, the two key protagonist of Disobbedisco! Major Renzi, a serviceman in the Impressa falls for Elettra, a seductive chanteusse and spy in the service of unidentified agents to report and undermine the Conquest.
Ianva are an Italian collective fired py passion, boldness and dignity to give voice to Italian culture in a musical project they term "archeo-futuristic". If it all sounds neo-folk (d'Annunzio is a inspirational figure in neo-folk circles) think again,
Disobbedisco!
pays homage to a long lineage of musical styles from ballads, chanson, cabaret, folk songs to soundtracks.
It's an invigirating release that switches between the doomed romance and rebel struggle following the Battle of Vittorio Veneto towards the end of World War I to the reclamation of the city by Italian naval troops and deposement of D'Annunzio in 1920.
Disobbedisco!
opens with the cinematic sounds of 'Colpo Di Maglio' fusing speeches to martial drumming, and symphonic touches that segues into the beguiling 'La Ballata Dell'Ardito', from which we are introduced to Major Renzi. Amidst hushed backing and swirling trumpets, soft piano score and accordion interludes the ballad defines Renzi as a dispirited war hero whose passion is reignited following the betrayal of Italy by the victorious allies. The following track, 'Vittoria Mutilata' less successfully continues the theme with some standard Italian new-wave sounds.
Disobbedisco!
picks up on 'Armed Again' with martial drumming, acoustic folk and trumpet fanfares, as Renzi marches with the rebel army into Fiume, with the vocals defiant and strong. Fiume or death, indeed.
The seductive Elletra Stavros enters the story in 'Tango Della Menade', a sultry ballad bewitching Renzi with its latent sensuality over swooping strings, accordion and piano accompaniment. Renzi is captivated by her performance and falls under her spell and is caught between between love, lust and loyalty. His dilemma is recounted in 'Per Non Dormire', a booming passionate voice soaring over strings and spirited trumpet. It, like La Ballata Dell'Ardito' captures the fiery decadence of singers such as Marc Almond and Scott Walker. The two lovers ruminate on 'Fuoco A Fiume', with the City under attack Elettra explains her actions will inevitably seal her fate while Major Renzi acknowledges that their love will never be destroyed by their political aims. With the port under bombardment Renzi reflects on the conquest in 'Muri D'Assenzio' and D'Annunzios' avant garde aesthetic, of wine, poetry and daily concerts. Renzi and Elettra meet for a final time. They share a kiss and part promising to meet in Trieste. Like D'Annunzio's dreams, it ultimately fails as Rezni receives a bullet to the head. As the lone piano score plays out
Disobbedisco!
could easily finish here but the story is reprised in 1929 as Elettra Stavros, now a doomed morphine-addicted junkie, remembers Renzi while giving a cabaret rendition of 'O' Surdato 'Nnammurato', a famous Italian folk song during the first World War.
The martial themes of
Disobbedisco!
will undoubtedly pique the interest of martial-industrial fans, yet those who enjoy the works of Scott Walker, Marc Almond and Agnes Bernelle, and more recently Black Sun Productions (whose 'OperettAmorale' distilled the works of Brecht) will be captivated by the music that Ianva carry off admirably. The accompanying booklet is beautiful too containing photos, and various ephemera from the Futurist movement and D'Annunzio's occupancy of Fiume. I'd pay money to hear a rendition of
Disobbedisco!
in English but perhaps for that we'll need to wait for the West End play starring Douglas P., Marc Almond and Ute Lemper with Boyd Rice as Gabriele D'Annunzio. For more information go to
www.illevriero.it
or
www.audioglobe.it