Svarrogh - Yer Su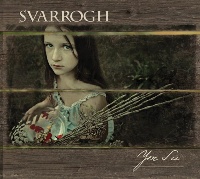 Svarrogh, the Bulgarian outfit lead by Dimo Dimov, return with their fifth album,
Yer Su
. On their previous release,
Balkan Resistance
, Svarrogh moved into folk realms. The folk music continues here but
Yer Su
also sees Svarrogh revert to their black metal roots resulting in an album of European folk music shot through with blistering black metal inspired guitars and barking vocals. The cental theme running through
Yer Su
concerns the earth-water spirit from the little known ancient Bulgarian belief system of Tangra.
For
Yer Su
Dimo Dimov has enlisted a number of musicians, primarily Valentina from Der Feuerkreiner, Marcel P of Allerseelen and Kostas from Defile Des Ames, amongst others. Svarrogh share many similarities with others on the Ahnstern label, an outlet for an agglomeration of progressive folk outfits comprising Allerseelen, Sangre Cavallum, Sturmpercht, Werkraum that almost constitute a micro-scene that stretches outwards to include US acts such as Waldteufel and Changes.
The opening track, 'It's Getting a Murk' is like an incantation to pagan spirits as it creates a mystical atmosphere from traditional instrumentation such as mandolin and flute with organ and massed singing voices. It's a moment of quiet reverence before 'The Old Mill', which revives their former life as a black metal outfit. Here Svarrogh accompany their surging black metal with traditional folk instrumentation. It's a curious combination of electric guitar, ringing mandolin, with rhythmic chanted voices and rough growled voices, with flourishes of flute and piano adding further sound.
It's something of a template for the current Svarrogh sound one they return to frequently on
Yer Su
. On 'I Call You From The Mountain' the electric guitar remains in the background allowing the wailing vocals and vibrant mandolin to take centre stage. In no way is Yer Su a black metal release but the influence is strongly felt on 'Eternal Flame' where the riffing really comes to the fore between passages of vibrant folk strum.
The key track on
Yer Su
is 'Holy Water, Earth', a combination of female spoken vocals and the key invocation of "Wake up earth, Wake up stone, Wake up sky, Wake up water! I will be sky then, I will be stone then, I will be earth then, I will be water then!" delivered repeatedly in whispered and growled tones by Dimo Dimov. The music features sprightly performed mandolin playing and wailing bagpipes, that breaks into Valentino's spoken verse over heavy piano stabs and the sound of rocks being beaten together before being reprised as acoustic black metal.
I enjoyed the sound of 'Wine of the Late Winter' where gruff vocalisations are set against striking metal percussion and reverberating heavy piano chords, while underneath a drone becomes increasingly distorted while the voice remains solemn and deeply harmonious.
'The Last Pine Trees' and 'Samodiva' are much more melodic with folk strum and Dimov's cracked growl, moving through passages of spoken voice and guitar pluck, returning to the folk strum and tuneless broken rasp, and back again to the charming spoken voice. 'Samodiva' is folky too with passages of chugging black metal inspired riffs culminating in handclaps and a snaking clarinet score. Much more buoyant and jaunty is 'Water Sounds, Overcomes' with flute and clarinet melodies accompanying the quick folk strum and harsh rhythmic vocals.
Every track on
Yer Su
is joined by female vocals, bells, rippling water and sound of crushed snow underfoot providing some sort of continuity to Svarrogh's disparate musical turns. Yet there's little let-up on
Yer Su
as each track is heavily orchestrated, and the production seems quite muddy. Svarrogh are much respected but the combination of folk and black metal elements from Svarrogh isn't as convincing as the synthetic loops of Allerseelen, or the traditional folk sounds of Sturmpercht or Sangre Cavallum, or as appealing as the folk sound of Werkraum. What do you expect from a group that look like black metallers and perform on mandolins though? For more information go to
www.geocities.com/ahnstern
or
www.steinklang-records.at