Tactile - Bipolar Explorer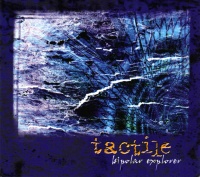 Bipolar Explorer
from John Everall's Tactile project is an electronic realisation of his fractured mental state. Like the illness that informs this release the sonic evocations are all-encompasing in their ability to irritate and agitate. It's a knowing, gnawing, grating release of serated electronic tones and throbbing electronic pulses that act erratically in a totally alien fashion. Like currents of electricity overworked and perilously close to exploding. It's irksome and quite unsettling as sounds blur, blend and spark, punctuated by sound washes.
Occassionally the mechanized hum evokes an industrial wasteland but more often than not the series of abstract tones and pulses are magnified and exaggerated to the point of irritability.
Bipolar Explorer
was originally intended for Coil's Eskaton imprint but was shelved due to Everall's "chaotic mental state". In fact 'Watching The Spiders' (whose incessant throbbing recalls Killing Joke's 'Requiem') was informed by conversations between Everall and Coil's Jhonn Balance about their shared hallucinations of spiders appearing at the periphery of their vision.
Bipolar Explorer
has elicited comparison with the Coil related projects Elph and Time Machines but musically the archaic equipment more closely resembles the work of Mount Vernon Arts Lab or Dieter Müh, while the depth of sound and sheer physical nature of
Bipolar Explorer
is closer to Pan Sonic.
Bipolar Explorer
is an uneasy ride but it is a genuinely affecting realisation of the mood shifts that define bipolar disorder. For more information go to
www.geocities.com/jahsev/tactpage.html
or
www.elseproduct.com