Za Frûmi - Barrow Wights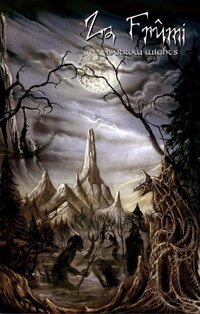 The dark, and at times, rumored figures that shift menacingly on the narrative edges of JRR Tolkien's
Lord of the Rings
are allowed to possess the centre stage, to a degree, through this the first joint musical venture between the fantasy sound-drama of Za Frûmi and new Portuguese music label, Major Label Industries. The fruit of this coalition is
Barrow Wights
, Volume One of what is intended to be a series of releases under the sub label, Tom Bombadil's Collectors.
In keeping with the tradition of the attentive detail and luxury that many of Tolkien's published works find themselves garbed in this particular release comprises of an A5 sized book with a solid cover and slipcase. The book itself contains 24 pages that include extracts from Tolkien's
Fellowship of the Ring
, primarily the chapter: 'Fog on the Barrow-Downs' as well as wider elaborations on the nature of the Wight. The overall production is completed with professionally finished art which, in itself, is subtle and manages to instill a chilling dimension to the product.
Housed on the inside rear cover is the CD and therein are ten tracks, a number are recordings which have appeared on now hard to find Za Frûmi albums with two new recordings especially for this release. The tracks have all been mastered to ensure a overall freshness of sound. Those unfamiliar to Za Frûmi will find this release provides a good spectrum of their work. In utilizing field-recordings, real sounds such as the heavy thud of hooves or the rasp of steel play amongst the music to 'illustrate' the tracks and give the audience an opportunity to develop a narrative image that the music enfolds and drives. Some tracks, such as 'Shadow Twin' and 'Dwarven Wars' contain martial flavours through the use of heavy percussion, bombastic in places, that also provides foundation. With sweeping chants and choral voices, sometimes rising in symphony, added the overall series of tracks coalesce to create a very brooding feeling which is in concert with the theme of this release. The forest environment is threatening and much of the ambient phrasing conjures ruinous tombs carpeted with fogs and being home to dark shadows. Some tracks also contain Za Frûmi's Orkish dialogue which is not overdone and because it was well conceived and delivered helps to characterize the music. Stand out tracks would have to be 'Through Jakesh Eyes' and the strident 'Vrapogat'.
Overall the aesthetic quality of
Barrow Wights
is extremely pleasing, both in the conception of the book and the engineering of sound mixes evident in the music which still retains Za Frûmi's signature instruments and compositional nuances. In the time of the digital file download it is refreshing to see a partnership producing such a high quality, tactile object that enriches the music and gives it greater clarity and focus. This release is limited to 1000. For more information go to
www.majorlabelindustries.com
(review by Michael Cunningham)