Dieter Müh - The Bjorn Tapes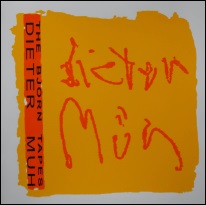 I'd like to think the world has finally woken up to Dieter Müh, the long-running industrial ambient project once consisting of Dave Uden and Steve Cammack, which since 2009 has been the solo project of the latter. EE Tapes recently resurrected
Mutus Liber
, a 1995 giveaway tape compiled for interested listeners and reissued it on CD.
The Bjorn Tapes
was another short-run cassette released by Dieter Müh first released on tape in 1999. It was a year that would see Dieter Müh share bills with The Grey Wolves, Con Dom, AntiChildLeague and Colin Potter. Colin Potter had a hand in their debut album
Black Square
, recording and producing it at his studio in Yorkshire. Dieter Müh at this point were Steve Cammack and Dave Uden, both inspired by the possibilities brought forth by the punk/DIY spirit of the seventies. It is industrial music that seeps into their sound, and you can hear it in the drone and noise ridden layers of electronics, manipulations, tapes and field recordings found within
The Bjorn Tapes
, which was recorded live and later edited in the studio. The entire Dieter Müh discography is littered with some wonderful short run releases on labels such as Tesco, Hanson Records, Harbinger Sounds.
The Bjorn Tapes
first surfaced on the Japanese label Xerxes run by Yoshida Yasutoshi of Government Alpha.
The Bjorn Tapes
was recorded live in Nottingham in January 1999 and edited and produced a few months later. I don't see a show listed in the Dieter Müh gigography so I'm guessing this was a live in the studio affair. It was soon after this recording I first caught Dieter Müh live, where the duo would be huddled over banks of synths, twisting wires and twiddling knobs. I've really no idea how they produced the sounds they did but whatever they did it resonated with depth, feeling and power.
The Bjorn Tapes
captures the essence of a live Dieter Müh performance.
Silence, space and a keen sense of sound gestation play a role on 'Herma'. Distant throbs and samples ebb into windswept drone terrain mixed with shuffling textures before it seeps into harsher drone based layers. It is a fine example of their ambient sound vibrations where nothing is rushed or overbearing and you really need to listen closely to pick up on the dynamics.
Even though their sound is based in drone based experimental electronics, Dieter Müh are often regarded as an industrial ambient group. If that's the case then 'Herma' focusses on the ambient side of their industrial ambient sound, while the other two tracks emphasise the industrial side of that description. 'Low Feed' mixes industrial churn mixed with tape manipulations where voices become almost alien. An electronic throb pulses underneath, like blood through coursing through the body. Electronics shimmer, whirr and echo, broken by sudden glints of crashing noise. This is the Dieter Müh I remember from the live shows I witnessed where they slipped seamlessly from subtle drones into denser, harsher sound layers writhing with distended, disembodied voices, sampled percussive clatter and chasms of noise. Unsettling, unnerving and oppressive 'Low Feed' is a great track.
The 23 minute side long piece 'Aghor' unfurls in various movements. The opening ambient sonics are laced with taped voices and intermittent bass thuds. It cut to crunchy, textured manipulations, followed by a passage of processed tapes of mutterings, utterings and whisperings shadowed by electronic oscillations, spliced with clicks and micro tone shudders. At this point there's a sense of ritual to be found within the soundscapes and primordial intonations before bass rumbles enter and underpin a dizzying morass of sound, where manipulated and disembodied voices are enveloped in waves of fluctuating distortion and noise and the flickering haze of frequencies. It is an impressive build up of sound, texture and intensity proving Dieter Müh's dexterity and firm grasp of composition. As it unwinds the loose bass tones and taped voices almost take the form of a live Throbbing Gristle performance, surging with brief bursts of vocals, rendered in a power electronics style sinking into silence and then edging out in queasy electronic oscillations.
Originally issued on cassette by the Japanese label Xerxes run by Yoshida Yasutoshi of Government Alpha and subsequently reissued on CD-R by the Italian label Blade Records
The Bjorn Tapes
is now released on white vinyl housed in a three-panel folded silkscreened cover released in a limited edition of 320 handnumbered copies on the Nuit et Brouillard side label Force Majeure. It's a handsome edition and well worthy of your time, especially if you've missed this group whose roots in early industrial inspired some fine releases, such as
Cari Saluti
and
Tertium Organum
, which collaged the sounds of industrial, experimental, ambient, ritual and noise to great effect. For more information go to
Force Majeure