Ostara - Eclipse of the West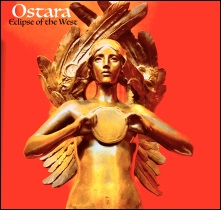 Ostara were once resolutely neo-folk but over the past few albums they have progressed far beyond into an area with no peers immersing Richard Leviathan's richly poetic lyrics, informed by authors, poets, mystics and artists, bolstered by strong melodic pop-hooks.
Eclipse of the West
follows
Napoleonic Blues
with another clutch of songs that bask in acoustic melodies, filled with strong arrangements and subtle nuances, where often dark streams of thought are enlightened in unashamedly uplifting catchy choruses and songs. Available on vinyl with accompanying CD, it is the vinyl edition which provides a nice split with one side seemingly richer in symbolism, more steeped in mythology and populated with Biblical and historical figures, while the second side often ploughs a more romantic stream with songs of love both specific and universal.
Eclipse of the West
starts almost a capella slipping into the simple strum of 'Storm and Stress' bursting into spirited moments shrouded in spaghetti western chorus. "I don't believe in God but I still feel the love" sings Leviathan in impassioned tones as he contrasts a sense of hope with life's travails as it switches between the uplifting and quieter lullaby passages. It's a contradiction that eschews God for a spirit and endurance that embraces life and its struggles.
The whole album flits between strum and spirited melodies often backed by massed accompaniments which could be lifted from a western soundtrack or from Scott Walker's solo work. Biblical figures feature heavily too. 'Song of Saul' gushes onwards in sprightly fashion with quick strum and darting bass as Leviathan evokes St Paul who converted to Christianity and King Saul, a tragic hero, who died (or committed suicide) protecting Israel from the Philistines. The instrumentation may be neo-folk but this is executed in a scintillating pop hybrid form.
Saint John of the Cross must rate highly in Richard Leviathan's pantheon of heroes as this is his second tribute in the course of two albums. 'Dark Night of the Soul' from the previous
Napoleonic Blues
dwelled on the journey of the soul and its necessary challenges that must be faced. The meaning of 'St John of the Cross' is more elusive as Leviathan in emotive and clear tones sings "To you my hero, I bring the spear of Christ", touching upon the Grail mysteries, later rasping that he will turn revolution into revelation over direct acoustic strum.
Shrouded in Scott Walker styled massed backing, over the quick strum of the title track Leviathan provides a lament for the west, - with a lyrical allusion to Trump, maybe - of an era blinded by a culture of mass narcissism where we herald the talentless and the celebrity, casting the true heroes to the past. Encapsulating a death of the West theme it is lyrically concise, direct and musically appealing but even better is 'Story of Pain'. With another a capella opening, this one is sung as if its protagonist is witnessing his own burial, before it rises with voice and gentle chords swelling into something beatific and genuinely uplifting with a chorus citing Caesar, Alexander, Charlemagne flanked in massed atmospheric harmonies and sombre synths. Ostara tap into something spiritual here; 'Story of Pain' represents one of Leviathan's finest compositions merging neo-folk with an intellectual pop edge. "O I'm on shroud 9" is just a genius lyric and this put simply is a beautiful song.
Other tracks settle into a purer acoustic form. The plaintive strum of 'Alchemy' with its Death In June-esque percussive beats contains a catchy upbeat chorus forged in vocal layers about the ever repeating cycle of life and death and the rise and decline of empires where only the soul endures, while 'Dystopia', a sombre ballad of ringing guitars and vocals delivered in differing tones, is a cautionary tale about utopian and dystopian visions which at their core prove fruitless and result in philosophical dead ends.
'Wayland's Sons' almost rekindles the wild hunt of the work of Fire and Ice and Sol Invictus, in its opening verses, where Leviathan in poised and stern tones evokes a wolf-age of Gods and beasts, before it opens into something more poppy. Rasping with a purity carried on an undercurrent of discord, 'Wayland's Son's' contrasts fire with ice, the dark with the light in a track rooted in the Norse sagas and the fiery steelwork of Wayland.
The second side opens up with 'El Enemigo' avoiding the mystical and historical for something more prescient, that black clouded shit disturber, an enemy, that lurks everywhere in a folk tinged ode sprinkled with a Morricone styled backing. While ''El Enemigo' deals with an unsavoury troublesome character, there is a romantic allure to be found within the pastoral hues of the guitars and soft cooing of 'City of the Shades'. Referencing Van Gogh's time spent in London, it ruminates on dejection and loneliness and while it is lyrically despondent Leviathan's approach offers something more melancholic and darkly romantic in its overall arrangement.
Cast against a backdrop of environmental concerns 'Fifth Horseman' carries a spirit of endurance in its melancholic acoustic base. A greater urgency is found in the galloping fast paced 'Runaway Horses', a breezy Cure type number, which is an uninhibited lovesong with lyrical references to death rituals atop sacred hills and a Mishima novel all contained within an acoustic poppy number filled with gentle keyboards and breathy accompaniments. From then on
Eclipse of the West
settles into acoustic balladry. Accompanied by keyboards, 'Cold Blunt Love' speaks of a cruel bittersweet moment of love gone awry in unfortunate circumstances, while, the reflective 'Siren Song' opens to a trumpet fanfare and accompanies the guitars with windchimes, swelling into a beautiful chorus reminiscent of something I can't yet put my finger on. It's a track that dwells on the death of hope, while the closing 'Sailor of the Blue' is more elusive, accompanied by piano keys, as the dual seafaring personas navigate the oceans of life and the rigours that trouble the soul.
Such is Ostara's growth and confidence songs no longer rest on history and mythology alone, but like symbolism, they remain touchstones but they are now contained with songs about soul, spirit, struggle and endurance.
Eclipse of the West
is described as " uncompromising confrontation with the Zeitgeist, brimming from start to end with a sense of tragic urgency" but it is also an album which deals with life in both physical and metaphysical realms. It's a pity that
Eclipse of the West
may not escape much beyond neo-folk listeners as it explores universal themes, expressing the unique and informed vision of Richard Leviathan in a musical form which tends to repeats the cycles of Ostara's past furnished with fresh elements ensuring a vibrant, powerful and timely piece of work.
Eclipse of the West
is another strong album sure to be enjoyed by seasoned Ostara listeners.
Eclipse of the West
is available on solar gold vinyl including CD in a signed and numbered edition of 500 copies. For more information and distribution details go to
Ostara